About
Us
TECHSER has taken on itself the Socio-Environmental responsibility towards issues such as global warming and reducing the emissions of carbon dioxide and hence decided to get into Solar Power Generation which is a cleaner power. The division was started in the year 2010.
Continuing the high standards in product quality and service set by TECHSER, the TECHSER Solar division has installed and commissioned 5MW plus of SOLAR PLANT. All our products conform to IEC standards and we are a MNRE approved solar system manufacturer and integrator.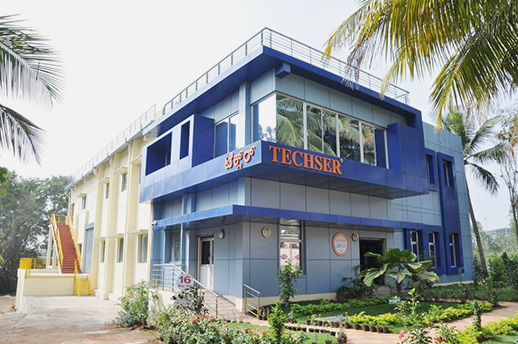 Working Methodology
TECHSER is into Solar Electrification through grid-tied/grid interactive Solar photovoltaic plants, Off-grid/Stand-alone with roof-top systems. Solar Energy is a contemporary need for domestic, Banking, Hospitality Industry and for other applications where continuous power is required.
TECHSER takes the onus to instil confidence and the awareness of solar power in India. This is where our expert team of engineers will fill the execution gap.
TECHSER has qualified engineers and staff who calculate each and every detail while working on a Solar Photovoltaic (PV) solution. Each Solar System Integration Solution is customized according to the customers needs in a responsible manner maximizing the output from the system. The engineering team is involved in each stage of the project execution.
We at TECHSER have an optimal solution for every solar need. For this, our design team carries out an extensive conceptualization/feasibility study. Initially, a site visit is conducted wherein a through consideration is given through unique methodology
Analysis of existing Infrastructure, availability of space for system installation
Space Availability for Balance of System
This study is oriented towards innovation and to provide our clients with optimum Solar Solution.
Based on the need and requirements of our clients and supplemented by the feasibility study, system design and engineering are performed by engineering team. Herein, the best solar architecture is worked at, with eyes keenly fixed on achieving the finest solution. Our systems are complemented with the best components from top manufacturers around the globe. These components are thoroughly tested and verified and are packed with product guarantees and warranties.
Realization by TECHSER includes logistics, planning and installation of the Solar Systems. By through planning, TECHSER guarantees minimal interruption and inconveniences during installation. An ensemble of our technical team and system installers performs these tasks in tandem.